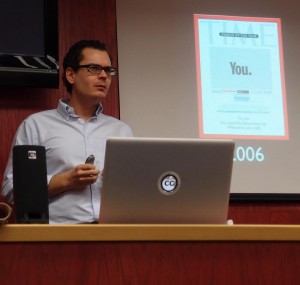 Esteban Romero Frías (página web; twitter @polisea; slideshare; linkedin) es profesor del Departamento de Economía Financiera y Contabilidad de la Universidad de Granada. Sus trabajos de investigación se enmarcan en el e-research, abordando la investigación en ciencias sociales a partir de datos y herramientas basados en Internet. La mayor parte de su producción científica se centra en el empleo de técnicas webmétricas para el análisis de empresas y partidos políticos. Desde 2007 utiliza blogs, wikis y redes sociales en su labor docente así como instrumentos para la comunicación de su trabajo investigador. Ha publicado artículos y presentado trabajos en congresos sobre aprendizaje y tecnología. Ha coordinado cinco proyectos de innovación docente en la Universidad de Granada. Actualmente es responsable de la enciclopedia abierta de empresa Descuadrando.com, así como de otros proyectos 2.0. Ha realizado además diversas estancias de investigación con grupos punteros en el desarrollo de técnicas para el análisis de Internet (University of Western Ontario, Canada; University of Wolverhampton, Reino Unido; Virtual Knowledge Studio, Amsterdam, Holanda; Centre de Recherche Interdisciplinaire, Université Paris Descartes, Paris, Francia). Ha impartido numerosos seminarios sobre Web 2.0, aprendizaje, ciencia abierta, conocimiento libre y emprendedores en España, México y Francia. Coordina el Grupo de Aprendizaje e Investigación en Internet (GrinUGR) en la Universidad de Granada. Aquí puede acceder al Curriculum completo.
_____________________
Esteban Romero-Frías (http://estebanromero.com; @polisea) is assistant professor at the Department of Finance and Accounting at the University of Granada. He carries out research in two main fields: (1) the application of Webometric techniques to business, and (2) the impact of Web 2.0 in higher education. Since 2007, he uses blogs, wikis and social networks in his courses. He coordinated six innovative learning projects based on Web 2.0 tools at the University of Granada. Among them, he worked in the design of Personal Learning Environments and coordinates Descuadrando.com, the open encyclopedia on business, where gamification techniques are explored.
He visited different research centers in Canada, Mexico, United Kingdom,The Netherlands and France. In 2011 he visited the Centre de Recherche Interdisciplinaire (CRI) at Université Paris Descartes in Paris, a center that works in implementing games in teaching and research.
LONGER BIO (in English)
From 1997 to 1999, I studied Humanities at the University of Granada (Spain). Following these studies, I graduated with a degree in Business Administration. This combination of fields in my academic education made me believe that interdisciplinarity is a fundamental perspective needed to understand our society. In 2004, I moved to the University of Valencia to undertake my doctoral courses at the most reputed department of Accounting in Spain. In 2007, my interest for international organizations and politics led me to the European Commission in Brussels (Belgium), for a 6-month traineeship. At that time, I was able to observe first-hand the impact of the emergence of Web 2.0. From this international perspective, I observed many different cultures and traditions increasingly interacting, through digital media, in a complex decision-making process and with high political and economic significance. After this experience I decided to adopt e-research methods to research the complexity of networked economy and politics. I strongly believe that we are amidst a historical turning point due to the emergence of social digital media.
The Internet as an enormous database ready to be exploited was the idea that inspired my PhD research. I committed myself to visit some of the most relevant interdisciplinary research centers and scholars: (1) January and February 2009, University of Western Ontario (Canada), invited by professor Liwen Vaughan; (2) from October to December 2009, Statistical Cybermetrics Research Group at University of Wolverhampton (United Kingdom, invited by Professor Michael Thelwall; (3) from September to December 2010, the Virtual Knowledge Studio (VKS) in Amsterdam (The Netherlands), invited by Andrea Scharnhorst; (4) from September to December 2011, the Centre de Recherche Interdisciplinaire (CRI) at Université Paris Descartes in Paris, invited by François Taddei (director of the PhD program).
Currently, I hold a permanent position at the Department of Finance and Accounting at the University of Granada, I carry out research in two main fields: (1) the application of Webometric techniques to business and political parties, and (2) the impact of social Web in higher education. A list of journal papers and conference papers, among other activities can be consulted at: http://estebanromero.com/cv-english/