My colleague and co-author José L. Arquero and I are participating in an open review process intended to have a discussion about our paper: «A view on Personal Learning Environments through approaches to learning«. This is the first time that we participate with a paper in a process like this. Our goal is to finally have our paper published in the first number of the new open journal INNOQUAL, sponsored by EFQUEL. The editorial board of the journal is strong, including experts such as George Siemens, Tony Bates and Alastair Creelman. This is the description of the new journal according to the website:
The International Journal for Innovation and Quality and in Learning (INNOQUAL) is an open access, open peer-reviewed journal which provides an international perspective on the theory and practice of innovation and quality in the field of learning at all educational levels and in all training contexts. It focuses on the relation between innovation and quality in education and seeks contributions which discuss how technology can contribute to innovate and enhance the quality of learning.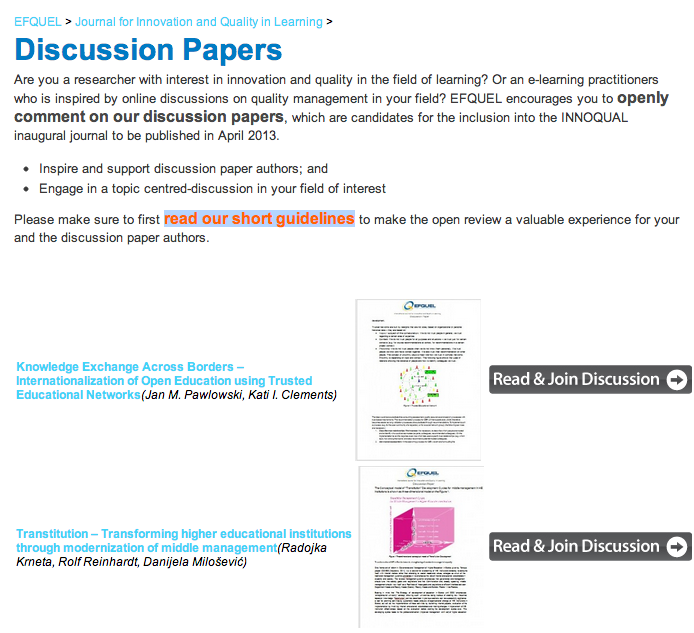 Promoting the open review by the editors and authors is essential to spur an inspiring discussion on the papers. In this process, a
uthors can and are encouraged to participate in the open review (i.e. commenting on the feedback that you receive on your paper, but also to comment on the other discussion papers).
Submissions can be found at the INNOQUAL website. Google Docs is used as a review tool, as long as the papers are open for comments (but not for edition) to everyone. This is the direct link to our paper. You can find some instructions to potential "open reviewers" in case that you want to participate.
This is the timing towards publication:
Open discussion papers: 22 February

Blind INNOQUAL review of your papers: 28 February

Camera ready copy due by authors: 18 March

INNOQUAL Publication: Beginning of April 2013