Hoy martes, 24 de octubre de 2017, participo en una mesa redonda dentro del Encuentro Internacional «The Age of Digital Technologies: Documents, Archives and Society», que se celebra en la Facultad de Geografía e Historia de la Universidad Complutense.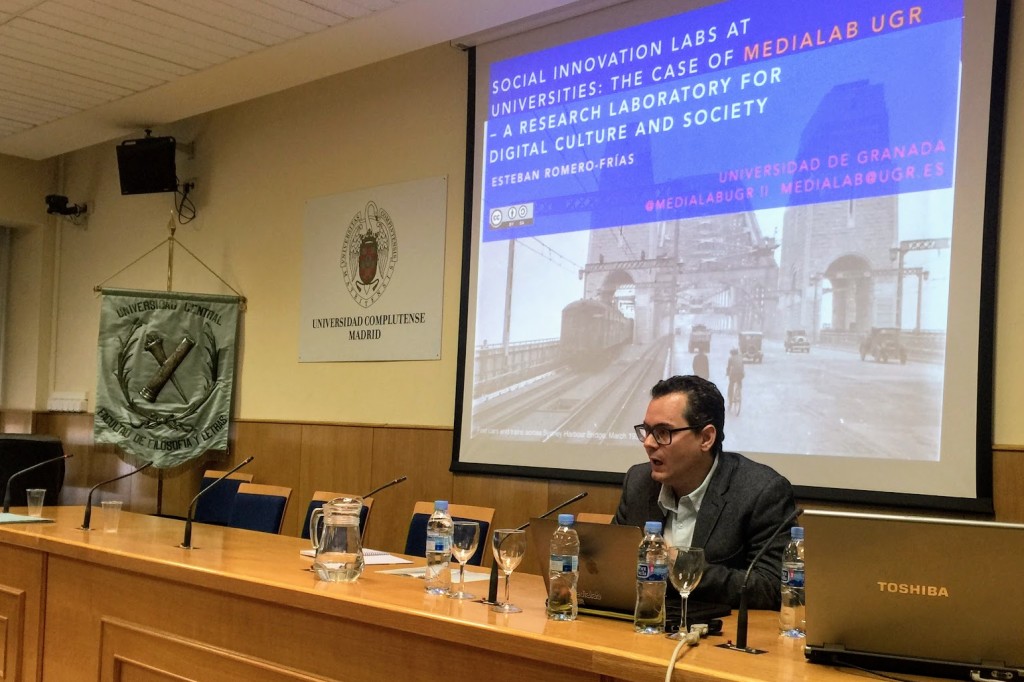 Mi intervención se titula: «Social Innovation Labs at Universities: The Case of Medialab UGR – a Research Laboratory for Digital Culture and Society». Versará sobre la naturaleza de los laboratorios sociales universitarios y sobre la experiencia en Medialab UGR. Acompaño mi presentación.
Tanto mi panel como el siguiente estarán compuestos además por las siguientes intervenciones:
Interoperability, Records Management and e-Archiving in Spanish eGovernment: Legal Framework, Processes and Tools. Rosa María Martín Rey (Central Archive of the Ministry of Finance and Public Administration, ES) and Javier Hernández Díez (Ministry of the Presidency and for Territorial Administrations, ES).
ARQFAM: Family Archives in the Digital Era. Maria João Da Câmara (ARQFAM – Family archives, ES).
A DIGIWARMEMO: Digital Humanities Approach to Re-Use the First World War Online Archives. Daniel Alves, David Bodenhamer and Paul Ell (New University of Lisbon, PT).
The Chaldean Heritage Work Group – A Mission by ICARUS to Help Preserve the Ancient Iraqi Christian Written Heritage. Csaba B. Stenge (Archives of Tatabánya City, HU).
Accessing the Full Text of Medieval Archives: The Example of the French Medieval Chancery Registers in the European Project HIMANIS. Dominique Stutzmann (Institut de Recherche et d'Histoire des Textes, FR).
The Topotheque Joins the Creative Industries: Novel Vilijun Case Study. Vlatka Lemi? (Croatian State Archives, HR) and Jasna Horvat (ANDIZET).
The Archives Portal Europe – The Largest Online Archives Catalogue in the World. Ana María López Cuadrado (Country Manager Archives Portal Europe, Ministerio de Educación Cultura y Deporte. Subdirección de los Archivos Estatales, ES).
El programa completo del encuentro, organizado por al red ICARUS a través del profesor Manuel Salamanca, cuenta con un gran número de aportaciones muy interesantes para pensar sobre los documentos y los archivos en la era digital.