Hoy he tenido las primeras reuniones con fines académicos en el Departamento de Humanidades Digitales (DDH) del King's College London.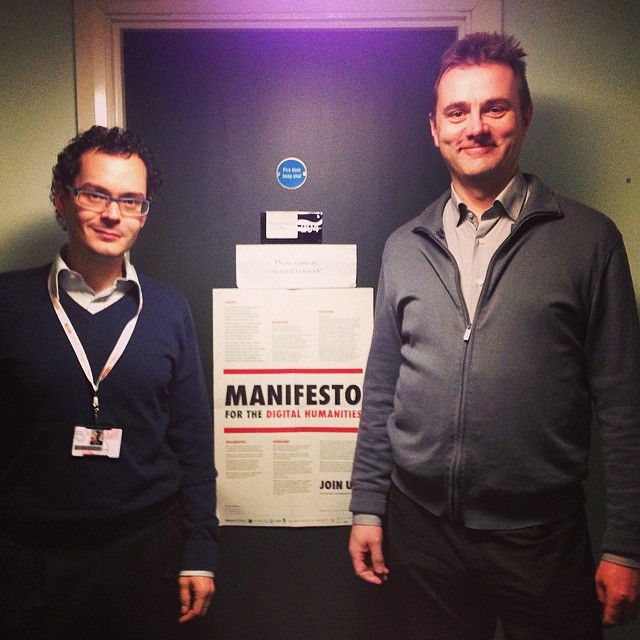 He tenido oportunidad de conversar con
Paul Spence
, senior lecturer del departamento y responsable de que esté estos meses en KCL. Agradezco su confianza y la invitación para compartir tiempo y proyectos. Las próximas semanas serán sin duda muy estimulantes. Entre otros temas de investigación, Paul me ha ilustrado acerca de la historia del departamento, el mayor del mundo en su género. El
actual DDH
deriva del 
Centre for Computing in the Humanities
y incluye dentro de su organigrama el 
Centre for e-Research
 que está más centrado en archivos y bibliotecas digitales. Existen también otros departamentos hermanos como el
Culture, Media and Creative Industries
con quienes comparten másters y proyectos.
Paul me ha presentado a Simon Tanner (blog; twitter @SimonTanner), Deputy Head del Departamento y Director de King's Digital Consultancy Services. Hemos mantenido una interesante conversación sobre temas tan interesantes y decisivos como los modelos de sostenibilidad de los proyectos digitales o la medición del impacto de los recursos digitales. De alguna manera, este último supone una vuelta a cuestiones que hace 10 años constituían un problema de primer orden (y siguen constituyéndolo) en el ámbito de la contabilidad: la medición de los intangibles. En este sentido se puede leer su post "The Balanced Value Impact Model" donde se hace referencia al informe "Measuring the Impact of Digital Resources. The Balanced Value Impact Model", elaborado por la spin-off que dirige.